| | |
| --- | --- |
| From the Main Toolbar, go to Trust. | |
Click

Select Add New Trust
CAS 360 will now display the Add Trust screen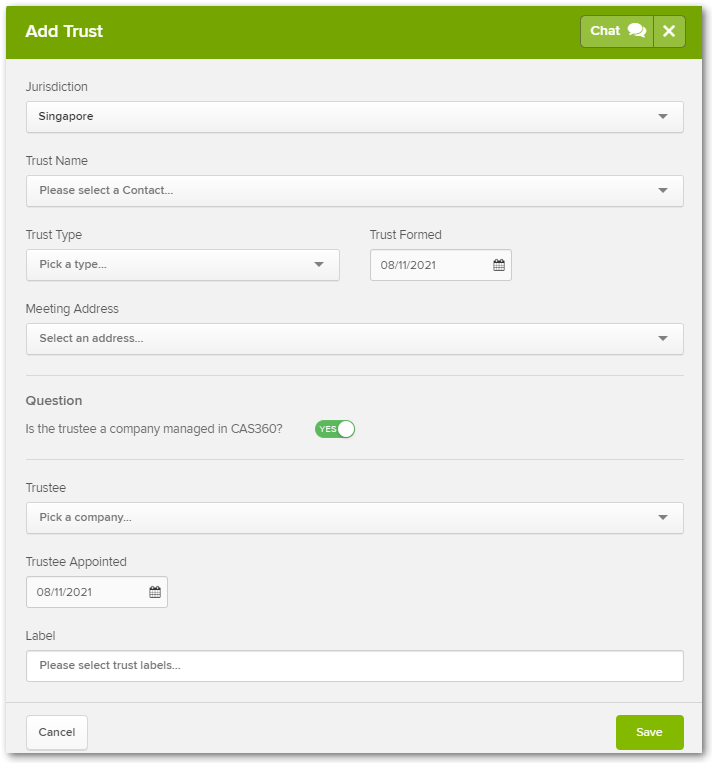 Field

Explanation

Jurisdiction

Select Singapore

Trust Name
Select a previously added contact from the Global Contact screen, or add a new trust contact to CAS 360 by clicking
Trust Type
Select either Discretionary, Unit, Bare, Hybrid
Trust Formed
Input the formation date of the trust.
Meeting Address
Select a previously added address from the Global Addresses screen, or add a new address to CAS 360 by clicking . This address will be used for the trust's meeting minutes.

Question

Is the trustee a company managed in CAS360?

When the trustee is a company managed in CAS 360, leave the toggle on, search and select the company from the list.

When the Trustee is another entity switch the toggle off and search and select a previously added contact or add a new contact by clicking .

Trustee Appointment
Input the trustee appointment date.
Label
To help manage your Trust Selection screen you can directly attach a label to a trust.
Click
to add the Trust to your
Trust Selection
Screen.
Import Trusts to CAS 360
Quickly import your trusts using the CAS 360 Trust Import Spreadsheet Template. This template allows you to quickly enter your trusts into CAS 360 with its straightforward and ease of use design. For more information, click here.