Overview
---
All incorporated companies in Singapore must specify up to two principal activities. The categorisation of business activities in Singapore is dictated by the Singapore Standard Industrial Classification (SSIC) Code.
The latest SSIC codes have been inbuilt within CAS 360, enabling users to process changes in Business activities in the Company Info screen.
A change in business activity must be updated on BizFile+ within 14 days of the change.
Navigation
---
| | |
| --- | --- |
| From the Main Toolbar, go to Company | |
| Select the Company from the list | |
| Select Company Info | |
Details
---
To add company information, click:

Select Business Activity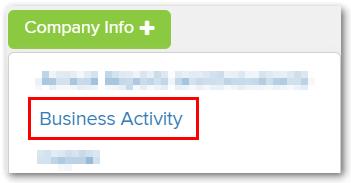 The Business Activities screen will display:
Field

Explanation

Activity Type

Select between Primary, Secondary, or Other.

Note: a Company can only have 1 active Primary or Secondary business activity at a time. If the company already has an active Primary or Secondary activity, you will not be able to select this option.

Activity Code

Type the code of the business activity. This field will prefill if a company activity has been selected.

Activity

Type the description of the business activity. This field will prefill if a company code has been selected. If not found within the database, select add.

Other Description

Type a description that relates to the business activity

Activity Date

Date the activity is active

Date Ceased

Date the activity ceased
Select

or
If there are multiple business activities to be able to prepare documents for, once clicking 'Save & Prepare Documents' another popup will appear to allow for the selection of multiple changes in business activities.

Forms Prepared
By selecting Prepare Documents CAS 360 will display the Document Production screen and automatically select the documents required:
Cover Letter
Directors Minutes or Resolutions
Members Minutes or Resolutions
Company Change Summary
Notice of Members Meeting
Members Consent to Short Notice
Notice of Resolution Form 11
Select the

icon to change any of the document settings. Different options will appear depending on the document type.