Through CAS 360 you have complete control to produce your own document suite. Change the look and feel of your compliance documentation by building custom templates.
Customisation is currently available for the following documents:
Consent to Act as Auditor Letter
Declaration of Dividend Resolution
Dividend Statement
Nominee Director Notice
Notice of Members Meeting
Register of Auditors
Transfer Journal
Document Templates are also available for Hong Kong, BVI, Caymen Islands & Malaysia.
Navigation
---
| | |
| --- | --- |
| From the Main Toolbar, go to Settings | |
| Select Document Templates | |
Document Set Filter
---
The search field can be used to filter and locate document templates.

Select your Jurisdiction to edit templates between other supported jurisdictions in CAS 360.
To begin editing a template, select a template from the Documents section on the left-hand side.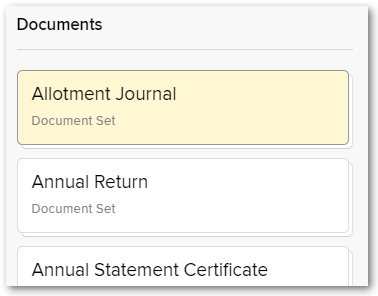 How to Edit a Template
---
Step 1: Once a template is selected, the CAS 360 Master Template can be downloaded by clicking
and selecting Download.
Step 2: This will download the template as a Microsoft Word document, which can then be customised.
See The CAS 360 Dictionary for all merge fields you can use instantly pre-fill information in your customised documents.
Please ensure you use the codes specified under each email/document template. Some codes are specific to an email/document template and will not work if used in another template.
Step 3: To upload your custom template, click
and locate your template from your computer.
Step 4: Once uploaded, the customised document will be noted with a time stamp.
Users can also choose to attach a label to an uploaded template.

When in the
Document Production
screen, you will then be able to select the document template to be used by selecting the label name.
Set a Default Template
---
Users are able to set a default template in the document template screen.
By setting a template as the Default, CAS 360 will have the template automatically selected in the Document Production screen.
Besides the document template, click
and select Set As Default.