Overview
---
Changes to officeholders including resignation, removal and death must be notified to ACRA within 14 days of the event taking place on BizFile+.
Navigation
---
| | |
| --- | --- |
| From the Main Toolbar, go to Company | |
| Select the Company from the list | |
| Select Officers | |
Instructions
---
CAS 360 will display a list of the company Officers.
Beside the Officer, change the status field from Appointed to Resigned, Removed or Deceased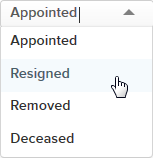 The ceased date will default to today's date. Users can edit the cease date via the ceased date field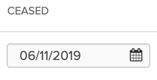 To accept and save the change, under options, click

The Print option

will be automatically flagged
Click

to Prepare the forms and documents.
Sole Director Company
Note that Companies need to have at least one director at all times. If the resigned director is a sole director of the company, ensure a new director is appointed first before the existing director is ceased. See Appointing a Director (Officer).
Forms Prepared
---
By selecting Prepare Forms

CAS 360 will display the Document Production screen and automatically select the documents required:
Cover Letter
Register of Directors
Register of Nominee Directors
Company Change Summary (Select Options to Print Return giving Officers Particulars Form 49)
Resignation Letter (only applicable to resigning officers)
Directors Minutes or Resolution
Members Minutes or Resolution
Select the

icon to change any of the document settings. Different options will appear depending on the document type.