Reduce time taken manually entering your client's company data into CAS 360 by utilising the new Search Register feature.
This feature allows users to search and import company data (including the ability to download the company extract) from ACRA registers directly into the software.
Navigation
---
| | |
| --- | --- |
| From the Main Toolbar, go to Company. | |
| Select Search Registers | |
Instructions
---
Click Search Registers +

Note: This is an additional paid service, priced at SGD 10.00* per company download. Included in the monthly invoice, payment can be made via MyBGL. Refer to the following help article for more information on adding Payment Methods. A credit card is required.
*A 3.75% payment surcharge applies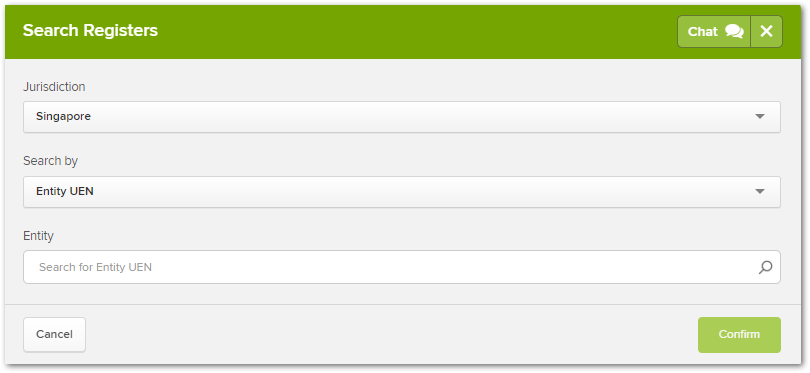 Field

Explanation

Jurisdiction

Select Singapore

Search by

Choose to search by Entity UEN or Entity Name.

Entity

Begin typing the company UEN/name.

CAS 360 will provide search results for companies on the ACRA database

Select to select the company.

Multiple Companies can be selected
Click Confirm Purchase

The company will now display in the Search Registers screen.

Beside the company click

, select between:
This will download a company extract PDF as at the searched date.

Users can download this extract at any point in time.
This will import the company and company details into your Company Selection screen as at the searched date.
What information will be downloaded?
By selecting import or download extract, users can import, or download a PDF summary of the company respectively, as at the searched date. The following information can be reviewed:
Company Details
Company Key Dates
Entity Type
Name Registrations
Registered Office Address
Officer Details
Auditor Details
Shareholder Details
Issued Capital
Business Activities
Company Charges
Filter Search Register
---
Recent Searches

View all purchased company data from ACRA.

The counter at the bottom of the screen will show the outstanding balance and the due date of the amount owed, which will be added to the CAS 360 invoice.

Historical Searches

Once the invoice is paid, companies are moved to the historical searches tab.

A re-import or download of the company extract can be performed at any time.
Use the Search box to look up a specific company data download

Re-Import
---
Once a company download has been purchased, users can re-import data.
Select

beside the company in the Search Registers screen and selection Import
Note: A re-import will remove existing company information in CAS 360 and overwrite the data with the purchased data from ACRA.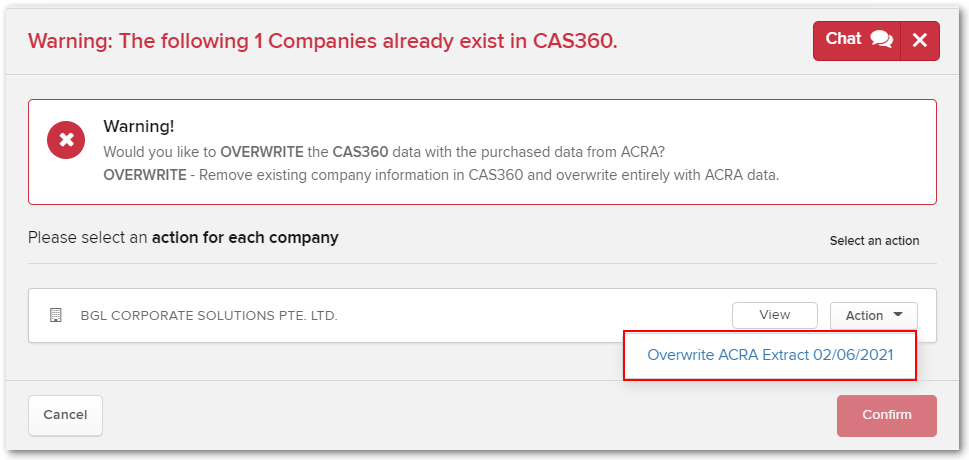 Click

to select the extract which will overwrite the data existing in CAS 360 with the purchased data from ACRA as at the searched date.
FAQs
---
I have already purchased and imported company data. Can I perform a re-import of

updated information

at a later stage?
Once company data has been purchased and imported, selecting

beside the company, and clicking import will remove the existing company information in CAS 360 and overwrite it entirely with previously purchased ACRA data as at the searched date.
To import updated company information from ACRA, the purchase will need to be re-processed by selecting